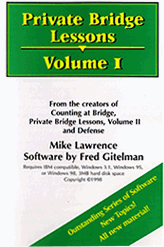 Private Bridge Lessons Volume 1 CD for PC only
By Mike Lawrence and Fred Gitelman
Private Bridge Lessons – Volume 1 is the first sequel to Counting at Bridge. Using the techniques developed in Counting at Bridge, you will get to play over one hundred challenging hands of bridge. The topics covered in this software include:
The Simple Squeeze
The Loser on Loser Play
Entries
Mystery Hands
Percentage Plays
Safety Plays
Counting
Endplays
The ACBL Bulletin gave this the best review ever. Brent Manley loved this product. Alan Truscott, Frank Stewart, Phillip Alder, and The Bridge World Magazine all rate Private Bridge Lessons, Volume-One as an excellent means to improve your game.
Order Now for $34.95